The SCC-CBE Christine School in Siem Reap was opened in 2010 by a few monks with the goal to educate all children in the area near Angkor Wat who cannot afford extra classes and therefore would be left far behind in public school.
Over the years, the school has gained many ambitious donors from the Czech Republic, Australia and from all over the world. Thanks to them our school could grow to the size that it is today. Around 120 students study in our school. They learn English in three different levels, the students are taught in Math and Science, they have weekly Art and Sport lessons and receive professional tennis and Computer classes. The library, the colorful school buildings and the teachers give the students a safe place to enjoy their time and to grow; they can experience their strengths and get to know friends which is so important at that age. Twice a week all students receive a warm meal, furthermore they get a school uniform and school materials.
All teachers and supporters always keep their eyes open if any of the students or their families are in trouble, and if that is the case we try our best to help them. Some eager students who already finished our NGO School get selected for our SCC-scholarship program and receive some money each month in order to finance their studies in public school or university.
---
Kim San is 18 years old and started to study in our school when she was 14. Now she is studying at university to be an English literature teacher. In her free time she likes to listen to music, to take care of the household, to cook and to study. She lives in a big, warm family. Her father sharpens and sells knifes, her sister makes ice cream, her brother carves statues and her mother is a housewife.
When she started in our school her family did not had enough money to support her studies. Therefore SCC gave her and her family food, clothes and a bicycle that she rides every day until this day. She gained a lot of knowledge and learned to take care of the environment. Kim San was selected for our scholar ship program and still gets financial support.
Kim San is really thankful for this school that changed her life. Without studying there she wouldn't have graduated high school and would have dropped out and started to work at an early age.
"I am so thankful, because they make the school for students in Cambodia and you know in Cambodia many people are poor and many students can't study. This school is giving them knowledge and they can have a future."
For her future she wishes to successfully finish her studies. After that she wants to come back to the CBE school and teach there. She wants to have a warm family and live in a small house, that would be enough for her. But if she had the possibility she would love to visit her sponsors, study abroad and teach master students.
---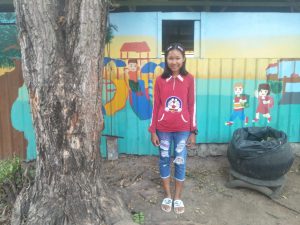 Dany is 15 years old and an eager student. She sits in front me with a big smile on her face and says
"In the beginning I didn't know anything. In school I learned a lot, not only English but also other skills. I also made good friends."
Dany is an only child and lives in Siem Reap, her mother works as a cleaner and her father as a security guard in Angkor Wat . They are a family full of love and support for each other, but without any additional support they wouldn't be able to finance extra classes and all the material needed for school.
Dany went to the SCC-CBE Christine School for one year and got selected for SCC's scholar ship program after she didn't had enough time to visit our school anymore. Now she gets 40$ per month to support her studies. During her year in the CBE School she learned English and basic life skills and had a safe place to meet and to befriend other students.
"Big thanks to all the sponsors, teachers and generous people that gave me this beautiful education and the chance for a scholarship"
When Dany is older she wants to be a communicative, good and fun person who does good and helps the poor. She wants to work as an accountant. Due to the support the receives she has the chance to reach her dreams.
---
Phoung Srey Noch is an 18 year old girl. She lives with her family in a small house. All together they are 10 people. Her father collects, recycles and sells things he finds. Her mother is a housewife. Srey Noch is now in grade 12 and in her free time she helps her mother with all the housework. She started to go to our CBE School in 2013 when she was in grade 5. She wanted to study English to be able to speak to foreigners.
The school supported her family with food and taught her many things. She learned drawing and the respect for other people. Srey Noch liked all subjects and especially the English classes helped her a lot to learn reading, speaking and writing. The most important things in her life are her family and her boyfriend whom she met at our school. When she is older she wants to have a simple but happy life and be a flight attendant, a model or a singer.
"Thank you for the school that supported and taught me as well"
---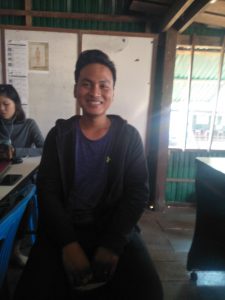 Koun Kun Thang is a 19 year old, curious young man who speaks really good English. He has been with the CBE-Christine School from the very beginning. He was studying in grade 6 when he went by the school and decided that he wanted to learn at our school. For the next 6 years he studied English, Math, Drawing and History. Furthermore, he learned to be interested in the outside world and got to know many friends.
Now he is living with his sister and his parents, who cook and sell street food in a small house and goes to university. In his free time he likes to do research on history and science topics and spend time with his friends. For the future he wants to live a better live, do what he wants to do and to be himself. He wishes that every person has the same chance to live a good life and to be able to decide on their own what they are going to do.
Without the CBE-Christine school in Siem Reap he wouldn't know about the outside world, he wouldn't have started to be interested in different things besides the daily life, he wouldn't have been going out and exploring the world, he wouldn't have gotten to know so many nice people and he wouldn't have been able to speak such good English as he does today.
"Thank you to SCC who opened the school and gave me the chance to study here and to meet a lot of friends. I hope this school will last long to help the children. I want them to have the same chance as me."