Hello, my name is Theresa and I spend one year volunteering for Salvation Centre Cambodia. This one year gave me a lot of insides into this organization and offered me the opportunity to meet some amazing people. I had enough time to get to know the culture, the traditions and the beautiful nature of Cambodia. Coming from Germany, there were also some challenges I had to face on my way – the cultures do differ. I had to step out of my comfort zone and was able to discover parts of myself that I did not know before.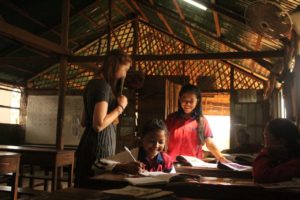 I came to Cambodia through an organization called Bread for the world, with help of the program "weltwärts". I arrived in August 2018 and spend a few weeks in the head office of SCC in Phnom Penh. I got to know the organizations, the structure and their visions. Moreover, I was able to help with the creation of reports and lesson plans. Then I moved to Siem Reap, where I worked in the SCC-CBE-Christine school. This was a wonderful time. While I was there, I helped to teach and to prepare different classes and subjects. I addition I painted some walls of the school and helped to improve the library. Finally, I spend quite some hours on creating this website. I rewrote the content, transferred the website to a new software and redid the design. I hope this website will be used a lot and be a place for SCC to update all interested readers about their progress.
All in all, it was a wonderful time with an amazing organization that gave me a lot of trust, possibilities and support.
Thank you!